The latest app works on all versions of Android. It can be downloaded HERE.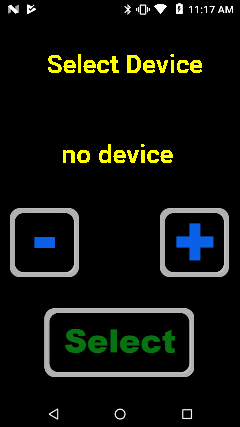 This screen is used to select the bluetooth device (locomotive) to pair with. Pressing the plus or minus buttons cycles through all of the devices currently paired with this phone. To get back to this screen from the following screens, tap the name at the top.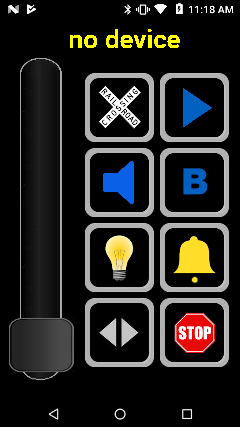 Main Control Screen. Slider on the left advances the throttle. Each of the buttons is assigned to standard function codes. This is the configuration out of the box. It defaults to SoundTraxx function code assignments but can be changed if you wish. 'B' stands for 'brake' in this case. The stop, direction and arrow icons can't be re-assigned. Tap the name at the top to get back to the select screen.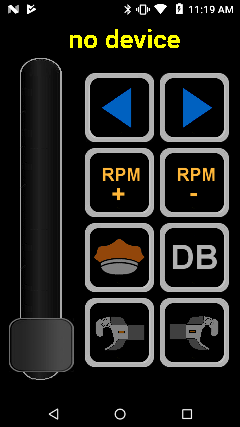 This is the Board control screen. The couplers at the bottom are set to control servo outputs 1 and 2 on the BlueDCC board. Use these with micro servos to pull Kadee or similar couplers open and closed. In the soundtraxx configuration, these also play the 'coupler' sounds. If your decoder supports coupler sounds, you can change the codes using CV commands. The actual coupler cycle is generated by the app.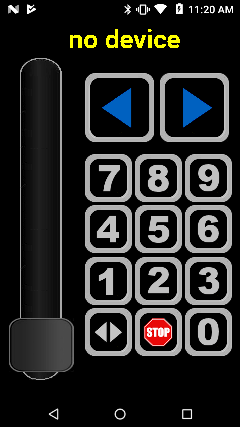 This is the generic DCC screen 1. It can be hidden but the buttons can not be re-assigned.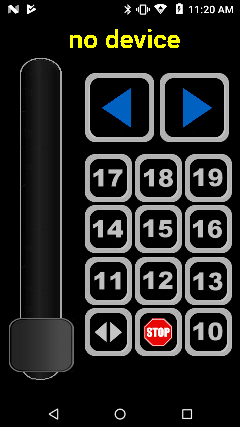 This is the generic DCC screen 2. Like the above screen, it can be hidden but the buttons can not be re-assigned.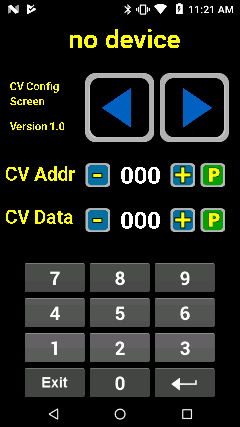 This is the CV screen. Touch the numbers, they will turn green, then you can use the keys at the bottom to enter the cv address and data. Touch the 'P' key (either one) to send the command to the decoder. Note this is a write only sort of thing, you can't read CVs, the app doesn't currently support reading.
Some of the internal app configurations are handled by CVs. The timeout value, the timeout mode, the ESC mode and the outputs mode are a few. See the list at the bottom.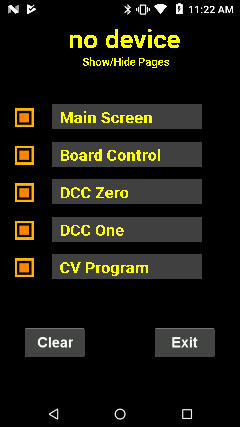 This is the Configuration screen. The buttons on the left show/hide the respective pages. Tapping the 'Main Screen' or 'Board Screen' text takes you to the configuration screen for the Main and Board screens.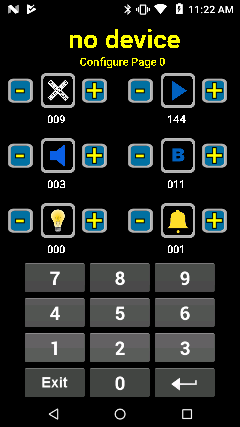 This is the Configuration for the Main Screen. Use the plus and minus buttons to select an icon for the button, then touch the button and the number underneath will turn green. Use the number keys to change this value. This is the function code that will be sent by that button. Some function codes are for internal functions, for example the couplers.
Internal Board CVs
In order to squeeze some extra functionality into the app, the BlueDCC board accepts a series of it's own internal CVs. These are for configuring things that normally don't need to be changed.
| | | |
| --- | --- | --- |
| 900 | 320=32 sec (etc) | Set this value to stop the locomotive after a certain time that the Android device is not communicating. This can be because you changed to another locomotive or dropped your phone in a bucket of water. The max is 32 seconds although you can completely disable the timeout if you wish. The default is 3 seconds. |
| 901 | 1=enabled, 0=disable | Set timeout active. The default is active. |
| 902 | 1=center, 0=low | ESC mode when comm is lost. 1 is Center off, 0 is low off. The default is center. |
| 903 | 0x30=both on, 0=low | Outputs on power up. (connections 4 and 5 on the board) This is a bit field -> 00xx0000 so 0x30 is both on, 0x10 is output 0 on, 1 off, etc. The default is both on at power up. |
| 904 | 0x07 = normal, 0x00 = all reversed | NOT IMPLEMENTED IN 1.04. This is a bit field for all three servos (0 thru 2 on the board) |
| 910 | 0-100 | Servo Coupler 1 max value |
| 911 | 0-100 | Servo Coupler 1 min value |
| 912 | 0-28 | Coupler 1 Sound DCC function code |
| 920 | 0-100 | Servo Coupler 2 max value |
| 921 | 0-100 | Servo Coupler 2 min value |
| 922 | 0-28 | Coupler 2 Sound DCC function code |